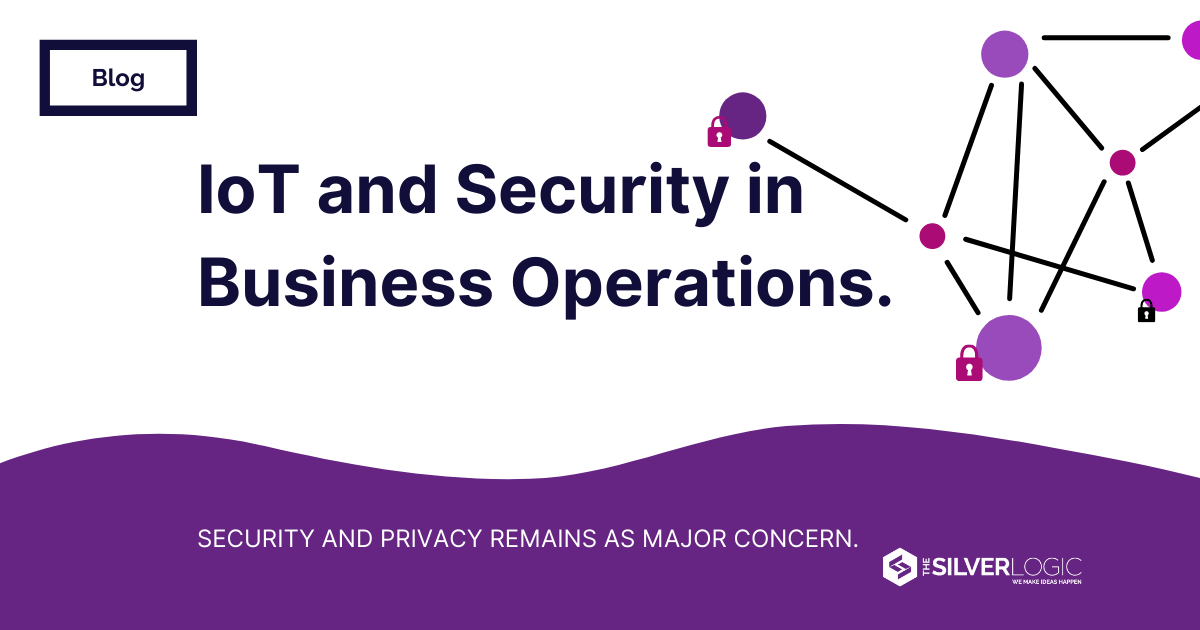 More and more businesses are adopting Internet of Things solutions to cut costs, boost productivity, and massively scale knowledge of their own operations - so why do 6 in 10 firms that pilot IoT initiatives not follow through on them? The consulting firm Capgemini set out to answer this question, and its new report shows that a majority of businesses falter during the early implementation phase of IoT solution implementation.
Given the sustained hype surrounding the IoT and what it can deliver to businesses, Capgemini's findings were surprising: The firm found that more than 60% of the organizations it surveyed did not take their operational IoT initiatives past the proof-of-concept or early implementation stages. This is due to a variety of factors, but the report lays out four basic reasons most companies fail to follow through on their IoT initiatives (which look a great deal like the key IoT factors we outline in our own Business Applications for the Internet of Things white paper):
No clear business case: Around 50 % of organizations struggle to establish a clear business case for their investments
Security concerns: 62 % of organizations are grappling with cyber risks that pose significant reputational and financial consequences
Constrained analytical capabilities: 60% of organizations say they do not have the analytics capabilities to take advantage of the data generated from IoT sources
Uncertainty about IoT standards and protocols: More than 50 % of organizations say uncertain standards are a significant challenge
Source: Capgemini
Addressing these issues requires a committed, cross-functional team, and large organizations in more traditional industries seem to be finding they lack the expertise to go from ideation to execution with the Internet of Things. Many organizations miss out because they simply don't see the best business use case for IoT, or they are otherwise unwilling to make the up-front investment in things like sensor technology. It's well established that both primary and secondary gains from IoT data can be enormous, so why aren't more businesses getting on board?
Implementation looks very different across industries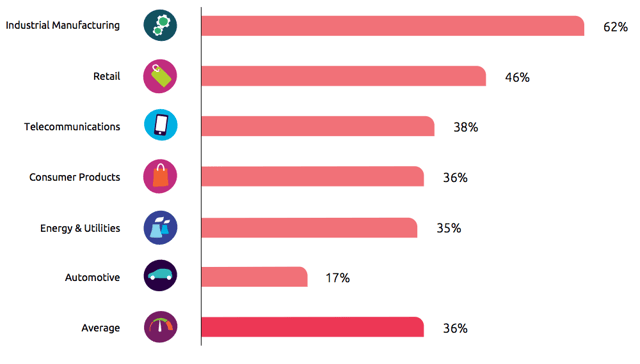 Source: Capgemini
One big takeaway from the report is how different IoT solutions for operations look across industries. Nearly two-thirds of the industrial manufacturing firms in the study reported deploying IoT in operations at scale, while fewer than 1 in 5 automotive companies were doing the same. This can partially be explained by core IoT devices like sensors being particularly useful in manufacturing (while the automotive industry has already invested heavily in robotics and automation and may not see as much use for the IoT), but these explanations alone do not fully address why so many companies fail to move out of the pilot stage with IoT.
America and the United Kingdom lead, and China lags behind
One dimension explored in the Capgemini report was the discrepancy between countries where IoT solutions are being deployed. In the survey of 316 large global firms and over 300 hundred executives, researchers found that only about a third of the companies were deploying the IoT at scale in their operations. Embedded in this global average was a big difference between major global economies: 44% of US firms and 41% of UK firms in the study were deploying IoT solutions in operations at scale, while less than a quarter of Chinese companies were doing the same. The report highlights two key reasons for this:
[The US] attracts significant venture capital investment, with one estimate showing that over two-thirds of the startups funded over the past five years are based in the US. This funding supports innovation by start-ups in the core IoT stack—sensors, platforms, and predictive analytics.
US companies are well placed to manage any cybersecurity concerns, with the US home to many startups focused on security solutions for the IoT.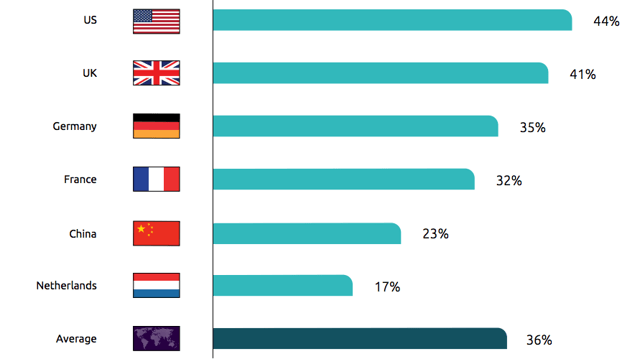 Source: Capgemini
Looking at China, which is a leading IoT adopter overall and enjoys strong government support of technology initiatives, the report cited two reasons why the country has fallen behind in scaling up IoT initiatives for operations:
The lack of mature IoT applications makes the selection of IoT software for specific use cases extremely challenging for firms looking to scale.
Lingering doubts over whether the IoT is a central part of business strategy leave many Chinese firms without the required leadership support and commitment.
Even in leading countries like the US and UK, the use of IoT in business operations has caught on much slower than predicted just a few years ago. Overall, the executives polled in the survey spoke mostly about security concerns, the lack of technological infrastructure and analytics capabilities, and uncertainty regarding standards and regulations for IoT devices as the main reasons their organizations had not fully embraced the IoT.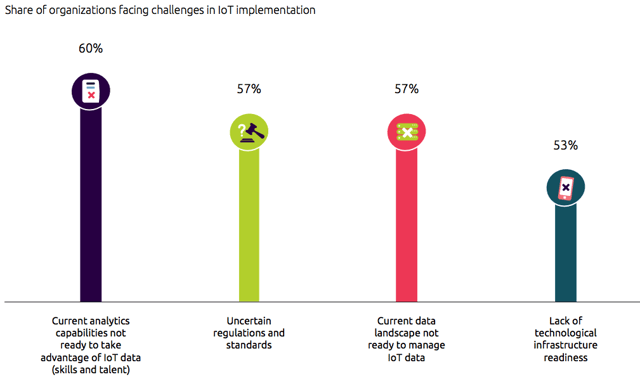 Source: Capgemini
Ultimately, businesses need to think broadly when considering the shift to more integrated, connected operations systems. While the benefits of IoT can clearly be seen in the ever-growing number of use case success stories, things like security and privacy remain major concerns for firms looking to avoid being known as the next big data breach of 2021. With investments in IoT security expected to hit record highs this year, though, it's likely that business leaders will be seeing an increasing number of "security by design" solutions that will make them more confident in running more connected organizations.
Keep reading about IoT: