Custom Software Development Cost - Investing vs Spending
Marketing Team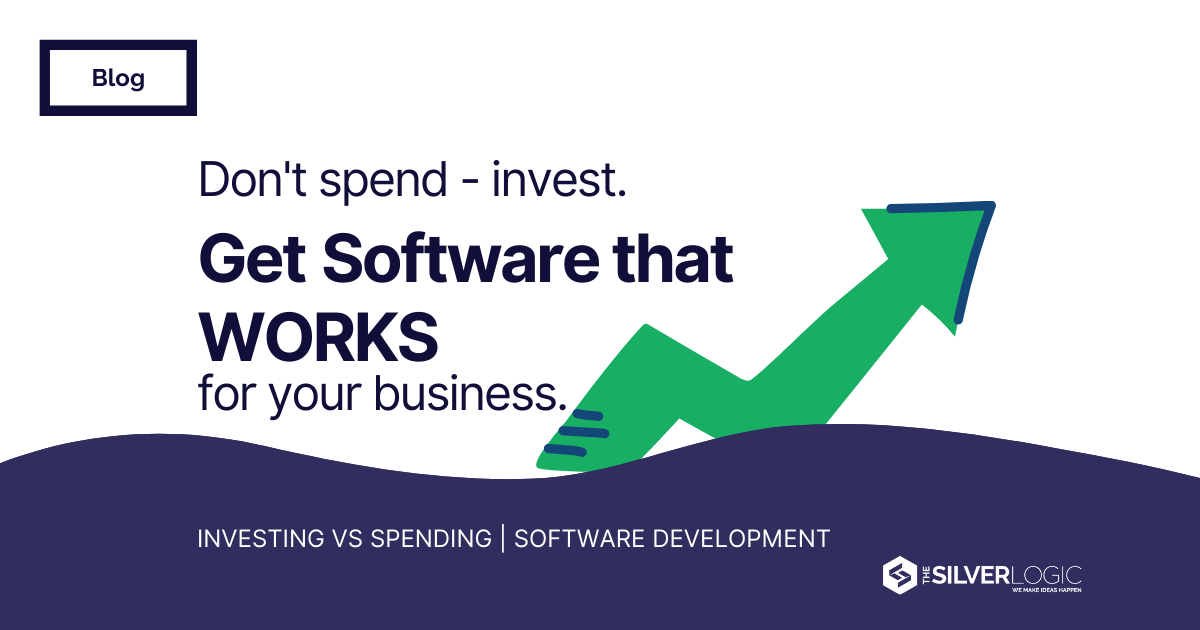 As businesses develop, all sorts of investment opportunities become available, to grow even further. And, in the current day and age, there is no more effective investment than a tech investment.
The power of modern technology can be incredibly lucrative for companies of any size, expanding customer bases, boosting productivity with the right tools, or elevating your company's accessibility. But how can business leaders tell apart the savvy investments from pointless spending?
There are certainly countless technologies available to your company. So, while IT software and business apps offer unique tools to enhance how every business runs, getting a return on your IT software investment (ROI) requires understanding all costs and benefits when selecting the method through which to acquire new software or business apps. For major corporations to local companies, small teams to sole proprietors, consider the following to determine whether a tech investment is going to give you a return that'll make a difference in your bottom line.
This guide provides a comparison of the four primary ways to acquire business software in order to help make your next IT purchase a wise investment, not a costly mistake.
Reduce your custom software development cost by budgeting for better business processes today

More businesses, both small and large, have been increasing their IT budgets due to the accessibility of tech investments today and their success stories. Looking to capitalize on new technologies and options, the business market is shifting gears to a more efficient, profitable, tech-savvy future.
The 2019 State of IT Annual Report on IT Budgets and Tech Trends found that:
More than one out of three mid-sized companies (500-999 staff) have seen their IT budget increase in 2018 due to corporate tax cuts
Smaller companies are driven to purchase new tech due to end-of-life (62%), business growth (57%), and end-user needs (55%)
We at The SilverLogic, for example, have boosted client companies' profits via business automation, a tech investment that increases company productivity. The technology is geared towards productivity and automating repetitive tasks that are prone to human error, resulting in an immediate substantial impact on company workflow depending on your business needs. So, this technology is an investment, paying for itself through custom software ROI quickly and securely. For more information on business automation as a lucrative example of tech investment, click here.
With so many unique options on the market, each with varying price tags and features, business leaders are asking—"How can I make sure that I'm investing in a solution that will solve my problems, and not one that will complicate my business and create even more problems?" Poor investments can consume egregious amounts of time, resources, and effort for very little ROI, so selecting solid, reliable investment opportunities is paramount.
WAYS TO ACQUIRE BUSINESS SOFTWARE OR APPS
There are four possible options for how to acquire software for your business:

WEIGHING YOUR INVESTMENT OPTIONS
When weighing your investment options, each presents its own unique pros and cons. Looking beyond the price tag, take into account the additional costs of each option for your business. These additional costs can involve development prerequisites, maintenance, etc., and ultimately add to your total cost.
1. PURCHASE OUT-OF-THE-BOX SOFTWARE
Out-of-the-box solutions are shipped and ready to use. Designed around specific business processes or industries, they are developed by either niche or major software providers. They are not, by default, tailored to suit your company's needs, but instead provide general functionality.
Pros
Comes ready to install and use
Trainers provided (depending on the size of purchase)
Software is constantly being improved
The cheap and sometimes easy option for the short term
Great customer support channels and online forums
Cons
Could negatively impact your business, if your team's requirements do not "fit in the box" of the solution provided, wasting productivity, sales, and even staff
Requires adapting your current business process to incorporate the software, instead of the other way around
Requires time for staff to undergo twice the training - to learn new business processes and the software
Initial costs increase quickly if the software is a pay-per-user license and has hundreds of users, or if customization, integration, or training is required
'Customizing' or 'upgrading' is usually not free, may involve hiring and paying a separate operating team, and may take weeks or months to complete
Customizing can be costly, complicated, or cumbersome
Verdict
Before you purchase, try out a demo with a small group of your team. Remember that having, say, 12 features when you don't need half of them will result in less ROI than a custom solution with the exact three features you use every day that is simple, easy to learn, and use.
If you are unsure if out-of-box is for you, reach out to a company that can assist with non-biased software comparison and price you a custom solution, so you get a clear comparison of out-of-the-box vs custom software.
2. OUTSOURCE DEVELOPMENT - OVERSEAS
Companies can also elect to outsource their development overseas—to countries such as India, Russia, or the Philippines—to design and build a custom software solution based on your requirements. Please note, though this can be seen as the cheapest option on paper, in reality, it can be the most costly.
Pros
Cheap and fast development
App development can range from $2,000-$200,000
Many options and providers in multiple countries with every coding language
Cons
Different standards around reliability, quality, and ethics, and may use older technologies
Operate in bulk development, lower standards documenting code, testing, or design
Information and requirements get lost in translation
Minimal or non-existent customer service
Difficult to update or fix: if the app or software breaks (which most do), the company may no longer exist, forcing you to pay another developer to re-work the code and documentation, which they can hopefully fix but may need to replace entirely
Verdict
Before choosing an overseas company to develop a custom solution, understand your exact requirements, and do extensive research to select a reputable and quality partner. Read reviews, products, customers, and years in business carefully, and determine that information is real and true.
Many companies are known to make up or hire people to make fake information to scam companies into selecting them. Remember the total cost, as saving money with the initial price tag may cost your business time and money if your partnered company's quality and reliability don't meet your requirements. In fact, according to Forbes, an initial cost that is too low is a massive red flag to watch out for, along with the use of wire transfers and a lack of local contact information.
3. BUILD AN IN-HOUSE DEVELOPMENT TEAM
In comparison to the price of hiring a company to build it for you, hiring and building an in-house team to build your solution is a major investment. In certain cases, it can be the best decision.
Pros
Fast support and updates if required
Staff intimately know your project (software/app) and also your team
Complete control over the end product and delivery
Extended service for staff or clients and in some cases, new product offerings
Cons
An in-house team requires a large level of work, patience, clear long-term strategy, and hiring the right staff to have it work
Over-head of training, salary, and staff development costs
As skills deepen, may request a higher salary, or risk losing them to another company
If they don't deliver what you expect, you may have to fire them
If they don't deliver what you expect, you may be left with a malfunctioning app with security flaws that costs more money to maintain than it saves
Verdict
This option is not for saving money on a project, but instead, investing in a new line of business for your firm or building a number of custom solutions that various teams in your company need. If your company sees a pattern of client demands around the same problem, you can plan to expand into apps and software with a custom developer partner rather than building an in-house team. If choosing to hire and build in-house, get clarity on requirements, projects, tasks, and roles. Get support to pick the right candidate you can afford to keep.
4. CUSTOM SOFTWARE DEVELOPMENT COMPANY
When each business has unique needs and requirements, custom software providers offer flexibility in developing the exact solutions clients need. There is a wide array of options available to you because every aspect of the process can be manipulated to suit your requirements. For convenience, custom software development comes in three distinct size classes for all company and project sizes: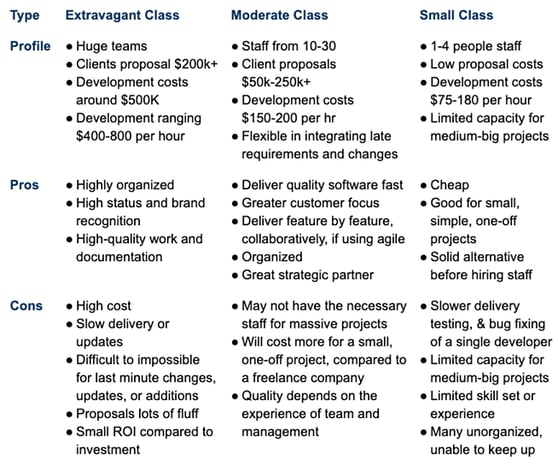 Pros
Software tailored perfectly to your company's unique needs
Consult with teams of tech experts and solution architects to develop ideal solutions
Longtime partner for tech support and maintenance
Powerful control over the end product and delivery
Saves company effort compared to in-house development
Cons
Choosing a suitable company requires extensive research and investment
Less control than in-house development
More costly than out-of-box options
Verdict
Custom software is, in many situations, ideal if possible. The ROI of custom-built software vs. SaaS (software as a service), or out-of-box solutions, will consistently be drastically higher because you can tailor the software to your company perfectly. You are not paying for additional features that you will never use. You are not paying for international outsourcing. You are not paying for your own team of software developers. Your company will not have to adapt to new software; instead, the software will be shaped to fit seamlessly into your company's workflow.
Choose the Extravagant Class when you have money to burn, want name recognition, or is the right decision for personal or company reasons. Choose the Small Class for any small projects that are not time-sensitive, or if you are interested in building an in-house team. For the majority of projects partner with a growing and reputable Moderate Class development company. This class offers flexible, collaborative, fast development and delivery that is on time, on budget, and supported with reliable maintenance or updates. The Moderate Class is a good choice for a long-term partnership, given their capacity to support bigger or small projects, and collaborate with or refer clients, which has been the case for The SilverLogic and our partners or clients.
CHOOSING THE RIGHT INVESTMENT
In conclusion, remember that focusing only on the price of the software as the cost doesn't take into account the full costs of the purchase. When software complicates what you are trying to do, instead of simplifying it, you may end up wasting productivity, efficiency, sales opportunities, staff, and even customers without intending to.
Final Advice
Purchasing Out-of-the-Box-Software or using an Overseas Development Company is the short-term, fast, and usually, cheaper option that costs more than the price.
Get multiple quotes and select based on credibility and custom software ROI (not just price)
Don't take on new staff or expand to an in-house team first. Hire a freelance developer, or partner with a custom developer, until the investment makes sense.
Reach out to a company that can assist with non-biased software comparison and price you a custom solution, to get a true comparison of out-of-the-box vs custom software. Talk to The SilverLogic for more information.
Why Partner with a Custom Software Development Company?
Customized software is built specifically to match your team's needs - get everything you need and have it do what you want, nothing that you don't
Custom software is built to solve the exact problems of your business and team, defining a clear path of custom software ROI to help recover your investment, and actually save time and money
Select the option with the lowest overhead, fastest, most reliable delivery of a quality product, and flexible to meet your needs. Remember, investing more in a project that is guaranteed to bring a higher return for your investment is a profitable investment. Choosing one just because it's the cheapest results in quality that will cost you much more than just the price of your investment.
Partnering with a custom software developer, like The SilverLogic, expands your team to include expert software developers and solution architects. Our clients don't spend money on custom software, but instead are investing in a profitable solution to break through the limitations or obstacles that have previously prevented their business from operating at its full potential. Using a collaborative, client-focused approach, we employ agile methodology to swiftly deliver, feature by feature, innovative and high-quality solutions that have earned us multiple awards in hackathons and competitions and have empowered our clients' businesses.
Simply put - hire a solution architect with an experienced team focused on custom software ROI, instead of purchasing from a software provider driven by sales quotas.
Don't spend your money on the cheapest option, because the cost is always higher than the initial price tag. Invest your money in quality.