INFORMATION TECHNOLOGY - INVESTING VS SPENDING
Information technology software and business apps offer unique tools to enhance how every business runs. From major corporations to multi-city companies, small teams to sole proprietors, getting a return on your IT software investment (ROI) requires understanding the full cost and benefits when selecting the channel to acquire new software or business apps.

This guide provides a comparison of the four primary ways to acquire business software in order to help make your next IT purchase a wise investment, not a costly mistake.
BUDGETING FOR BETTER BUSINESS PROCESSES IN 2019
Success stories and results by companies leveraging technology to upgrade how their business runs has sparked business owners big and small in 2019 to increase their IT budgets.
In the latest 2019 State of IT Annual Report on IT Budgets and Tech Trends, it found:
Over ⅓ of midsized companies (500-999 staff) have seen their IT budget increase in 2018 due to corporate tax cuts
Smaller companies are driven to purchase new tech due to end of life (62%), business growth (57%) and end-user needs (55%)
With so many options on the market with varying price tags and features, decision-makers are asking - "How can I make sure I am investing in a solution that will solve my problems, and not spending money on one that will complicate and create more problems?"
WAYS TO ACQUIRE BUSINESS SOFTWARE OR APPS
When choosing to acquire software for your business, there are four primary ways:

WEIGHING YOUR INVESTMENT OPTIONS
When weighing your investment options, each presents its own unique pros and cons. Looking beyond the price tag, take into account the additional costs with each for your business.
1. PURCHASE OUT-OF-THE-BOX SOFTWARE
Purchasing an out-of-the-box solution is one that is shipped ready to use. Designed around certain business processes or industries, it is developed by niche or major software providers.
Pros:
Comes ready to install and use
Trainers provided (depending on the size of purchase)
Software constantly being improved
The cheap and sometimes easy option for the short term
Great customer support channels and online forums
Cons:
Could negatively impact your business, if the requirements of your teams do not "Fit-in-the-box" of the solution provided costing productivity, sales, or even staff
Most Out-of-the-box solution requires customization (removing features you don't need and adding/extending those you do)
Changing the current business process to fit into the ones designed in the software
Time for staff to have 2x training - learn new business processes and the software
Initial costs increase quickly if it is a pay-per-user license and has hundreds of users, or if customization, integration, or training is required
'Customizing' or 'Upgrading' in the majority of cases is not free, may involve a separate team to hire and pay, and may take weeks or months to complete
Customizing can be costly, complicated, or cumbersome
Conclusion:
Before You Purchase try out a demo with a small section of your team. Remember that 12 features with half you don't need, will have less ROI, than a custom solution with three features you use every day that is simple, easy to learn and use.
Need Help? Reach out to a company that can assist with non-biased software comparison and perhaps price you a custom solution, so you get a clearer comparison of out-of-the-box vs custom software.
2. OUTSOURCE DEVELOPMENT - OVERSEAS
Overseas development in countries like India, Russia, or the Philippines, to design and build a custom software solution based on your requirements presents challenges. Although this can be seen as the cheapest option on paper, in reality, it can be the most costly.
Pros:
Cheap and fast development
App development can range from $2,000-$200,000
Many options and providers in multiple countries with every coding language
Cons:
Different standards around reliability, quality, ethics, and may use older technologies
Operate in bulk development, lower standards documenting code, testing, or design
Information and requirements get lost in translation
Minimal or non-existent customer service
Difficult to update or fix: if the app or software breaks (which most do), the company may no longer exist, forcing you to pay another developer to re-work the code and documentation, which they can hopefully fix but may need to replace entirely
Conclusion:
Before choosing an overseas company to develop a custom solution, understand your exact requirements, and do extensive research to select a reputable and quality one. Read reviews products, customers, years in business carefully, and determine that information is real and true. Many companies are known to make up or hire people to make fake information to scam companies into selecting them. Remember the full cost, as saving money in the price may cost your business time and money if the quality and reliability don't meet your requirements.
Learn More: Forbes"The True Cost of Offshoring Your App Development"
3. BUILD IN-HOUSE DEVELOPMENT TEAM
In comparison to the price of hiring a company to build it for you, hiring and building an in-house team to build your solution is a major investment. In certain cases, it can be the best decision.
Pros:
Fast support and updates if required
Staff intimately know your project (Software/App) and also your team
Complete control over end product and delivery
Extended service for staff or clients and in some cases, new product offerings
Cons:
An in-house team requires a large level of work, patience, clear long-term strategy, and hiring the right staff to have it work
Over-head of training, salary, and staff development costs
As skills deepen, may request a higher salary, or risk losing them to another company
If they don't deliver what you expect, you may have to fire them
If they don't deliver what you expect, you may be left with a malfunctioning app with security flaws that costs more money to maintain than it saves
When Does In-House Make Sense?
This option is not for saving money on a project, but instead, investing in a new line of business for your firm or to build a number of custom solutions that various teams in your company need. If your company sees a pattern of client's demands around the same problem, you can plan to expand into apps and software with a custom developer partner rather than building an in-house team. If Choosing To Hire and Build In-House get clarity on requirements, projects, tasks, and role. Get support to pick the right candidate you can afford to keep.
4. CUSTOM SOFTWARE DEVELOPMENT COMPANY
Each business has unique needs and requirements, with customer software providers offering flexibility in developing the exact solution clients need. Custom software development comes in size classes: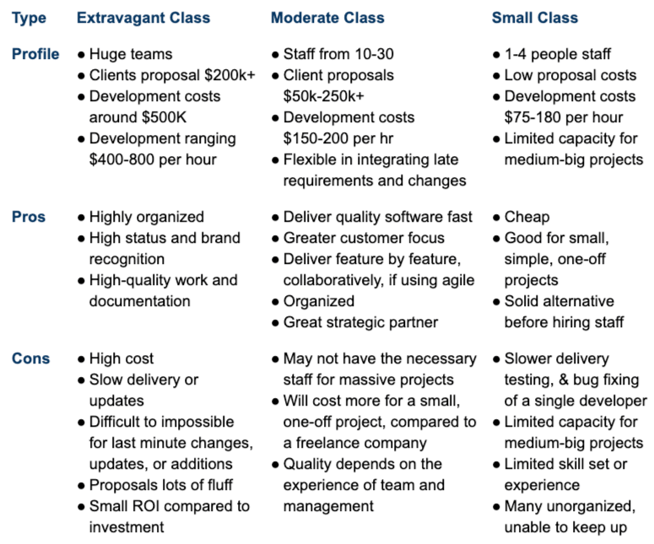 Conclusion:
Choose the Extravagant Class when you have money to burn, want the name recognition, or is the right decision for personal or company reasons. Choose the Small Class for any small projects that are not time-sensitive, or if you are interested in building an in-house team. For the majority of projects partner with a growing and reputable Moderate Class development company. This class offers flexible, collaborative, fast development and delivery that is on-time, on-budget, and supported with reliable maintenance or updates. The Moderate Class is a good choice for long term partnership, given their capacity to support bigger or small projects, and collaborate with or refer clients, which has been the case for TSL and our partners or clients.
CHOOSING THE RIGHT INVESTMENT
In conclusion, focusing only on the price of the software as the cost doesn't take into account the full costs of the purchase. When software complicates, instead of simplifying what you are trying to do, it can cost productivity, efficiency, sales opportunities, staff, and even customers.
Final Advice:
Purchasing Out-of-the

-Box

-Software or using an Overseas Development Company is the short term, fast, and usually, cheapest option that costs more than the price.
Get multiple quotes and select based on credibility and ROI (not just price)
Don't take on new staff or expand to an in-house team first. Hire a freelance developer, or partner with a custom developer, until the investment makes sense.
Reach out to a company that can assist with non-biased software comparison and price you a custom solution, to get a true comparison of out-of-the-box vs custom software. Talk to The SilverLogic for more information.
Why Partner with a Custom Software Development Company?
Customized software is built specifically to match your team's needs - get everything you need and have it do what you want, nothing that you don't
Custom software is built to solve the exact problems of your business and team, defining a clear path of ROI to help recover your investment, and actually save time and money
Select the option with the lowest overhead, fastest, reliable delivery of a quality product, and is flexible to meet your needs. Remember, investing more in a project that is guaranteed to bring a higher return for your investment is a profitable investment. Choosing one just because it's cheapest results in quality that will cost you much more than just the price of your investment.
Partnering with a custom software developer, like The SilverLogic, extends your team. Our clients don't spend money on custom software, but instead are investing in a profitable solution to break through the limitations or barriers that have previously prevented their business from operating at full potential. Using a collaborative, client-focused approach, we use agile to deliver with speed, feature by feature, innovative and high-quality solutions that have earned us multiple awards in competitions, and transformed or grow our clients' businesses.
Simply put - hire a solution architect with an experienced team focused on ROI, instead of purchasing from a software provider driven by sales quotas.
Invest your money in quality. Don't spend it on the cheapest price, because the cost is always more than the initial price tag:
"The person who makes a poor decision pays twice to get half the quality. Trying to save, they buy the cheaper, lower quality option, only to have it break sooner than a quality one would. Paying to fix or replace the half-quality product, they end up spending the same amount, sometimes more, for two half-quality products, and never get a top quality product. Treat every purchase as an investment, and think long term. For what you save today may come at a price you pay double for, and a bigger cost, tomorrow."
---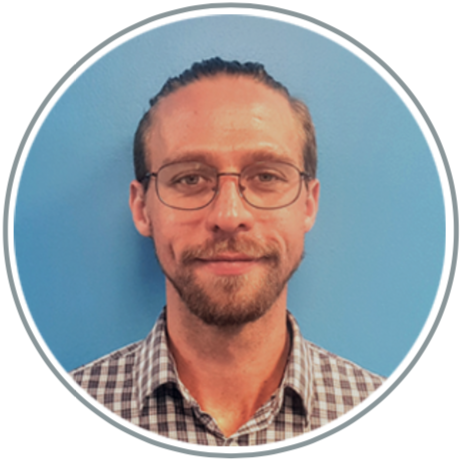 Johan Coppers
Johan Coppers is Business Developer and member of the TSL Marketing team. Obtaining his Master of Business & IT in Australia at Bond University with 8 years in Australia working for Deloitte, SAP, start-ups, he obtained his marketing degree from the University of Central Florida and has experience in social media & marketing strategy, start-up's, and a multitude of industries. Outside TSL he is the internationally recognised songwriter - Johan Danno