The Advantages and Disadvantages of Software as a Service (SaaS)

Gareth Ridout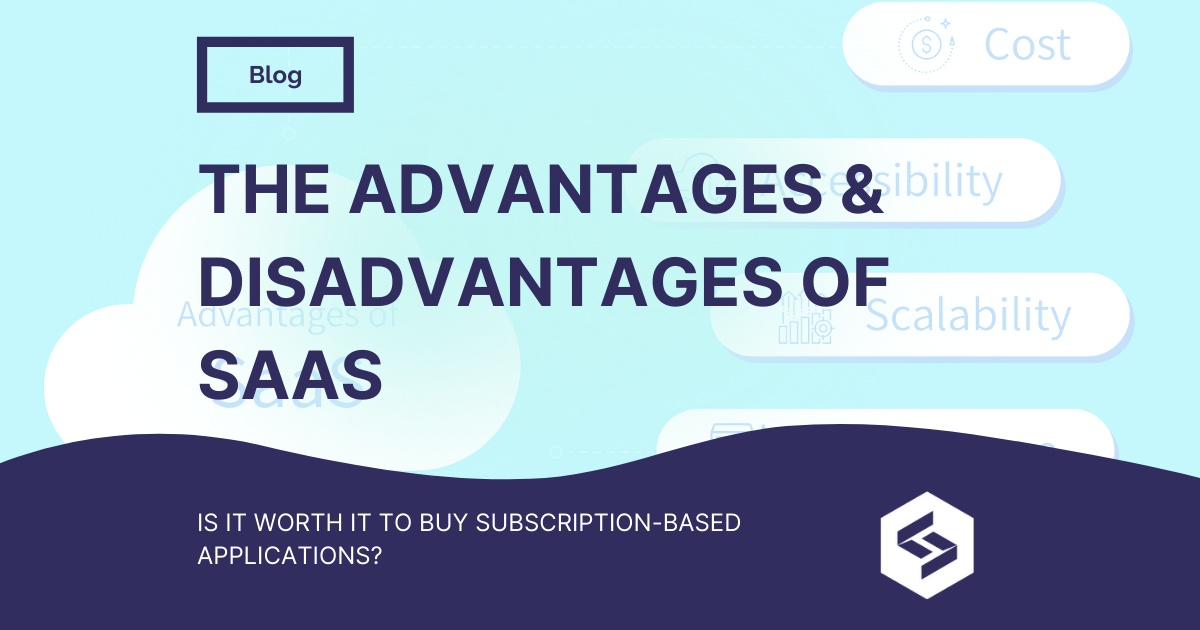 What is SaaS?
Software as a Service (SaaS) is a subtype of cloud computing that offers a cloud-based software platform that is completely web-based and can be used across all devices and operating systems and can be used anywhere with an internet connection. It has grown to become the world's most popular software delivery model and has become an industry standard.
SaaS programs are many and varied and available in categories that include accounting; applicant tracking; CRM (Customer Relationship Management); document creation/editing and management; email management; and photo editing/design
For businesses, there are clear advantages to buying these subscription-based applications — but there may also be disadvantages.
Advantages of SaaS
Cost
Subscription-based software licensing makes the understanding and allocation of costs easier for businesses. There is a manageable, predictable subscription cost that includes every aspect of service delivery, hosting, support, upgrades, and more. The low costs are a benefit of the service provider being able to share their hardware, testing, and delivery costs across a large user base. So the resulting lower "buying threshold" gives smaller businesses the ability to access software they might otherwise have been unable to afford with a software solution being accessed on-site with all that entails – server maintenance, software updates, etc.
Accessibility
The ongoing COVID-19 crisis has made many businesses rethink how and where their employees engage with work. Embracing policies like BYOD (Bring Your Own Device) and working from home makes SaaS an attractive option. With SaaS being a cloud-based service, companies can reduce expenses and help improve productivity because employees can work anywhere, at any time, across operating systems and devices as long as they have a working internet connection.
Scalability
For small companies focused on growth, SaaS programs can be a way to accommodate current needs and budgets while considering expectations for the future. For many SaaS programs, pricing is determined on a per-user basis so companies only pay for the users or "seats" they need. This allows for continued growth without increasing expenses like a standard software license and there are no server space issues so a company with changing demands can grow and expand without worrying about hardware infrastructure. Alternatively, a company that needs to scale down for whatever reason can do so quickly and efficiently.
Maintenance
Perhaps the most beneficial aspect of SaaS is the automatic access to patches and updates. The publisher of a subscription-based model will automatically update your licenses as new versions are released. Your employees won't be using outdated tools and the business no longer has to contend with hardware upgrades, the costs of licenses, or infrastructure.
Also, if there are any bugs or errors, the task of solving these bugs/errors are borne by the service provider.
Ease of Deployment
SaaS solutions are pre-existing and can be flexible in terms of features, so user needs can be addressed more easily. All you need is the system and access. Deployment time is minimal and once authentication is complete you have access to the software until the end of the subscription. This minimizes common delays resulting from often lengthy traditional software deployment.
In a traditional on-premises environment, it may be difficult to install new software across the entire organization, and delays and troubleshooting have a negative effect on time and employee productivity.
Disadvantages of SaaS
Security
Publishers aren't responsible for ensuring data security when using the SaaS model for their applications. It is, instead, the subscriber's responsibility to make sure there are appropriate security safeguards and protocols in place. The current global reality of COVID-19 and the need for mobility in the workplace presents a significant challenge to IT departments as they endeavor to secure mobile devices in remote locations. Endpoint security is vital in order to safeguard important data in an increasingly mobile world. Businesses need to accommodate this trend without opening themselves to malicious attacks. To avoid this problem, you can select a hybrid cloud option wherein you can keep the sensitive information at the business/subscriber end or use tools like multi-factor authentication to add another level of security.
Inadequate Control
With SaaS programs, the information used within those programs is stored in the SaaS vendor's data center. Accordingly, a subscribing business has no way to control how their information is maintained and security is out of their hands. If servers go down or there is a hack, there's not much that you can do to secure your information. Potentially, this puts data at risk, which in turn may cost you the trust of your customers and your reputation in your industry. This fact starkly highlights the major advantage of on-site servers - information is mostly secure when stored in on-site servers with threats being limited to those that are internal. So, if security is a major concern the SaaS model may not be for you.
Upgrades
Throughout a program's subscription, upgrades may be distributed which a business may not necessarily want or need due to the way SaaS programs work. Mandatory upgrades may even cause damage due to a lack of compatibility with existing older software that a company may need to use for whatever reason. When there is no way to turn off automatic updates or to defer updates at the business's discretion, issues may arise that are damaging to that business. So, this is another consideration when thinking about whether the SaaS model is right for you and your business.
Connectivity
SaaS programs are hosted online and usually require the internet to function. Service outages can significantly interrupt the ways in which you do business and can prevent deadlines from being met; bringing productivity to a halt. Slow internet connection can also cause problems. For example, when your service can't meet the demands of your employees, it's almost impossible to get anything done.
It's important to note, however, that some SaaS programs do have offline features that allow for partial functionality when not connected to the internet. But, this is usually limited to core functions and may inhibit access to data or key features required during the workday.
Is SaaS right for you and your business?
So, you've decided that your company may need a SaaS program but are having trouble finding the right fit or justifying the cost, what do you do?
Well, find a company like The SilverLogic to help you determine whether a SaaS program is right for you, or if you would be better off building a custom solution, or a combination of the two options.
The SilverLogic (TSL), located in Boca Raton, Florida, is a global organization of full-time software engineers, designers, and architects focused on developing and delivering products that help businesses grow. We are a client-focused, value-driven, custom software development company led by founder and CEO David Hartmann. Collaborating closely with you and your company, TSL will work diligently to understand the problem you are looking to solve, make evidence-based recommendations and execute those solutions efficiently and effectively. Let us help you make your idea happen.
The SilverLogic
751 Park of Commerce Dr, Suite 126
Boca Raton, FL 33487