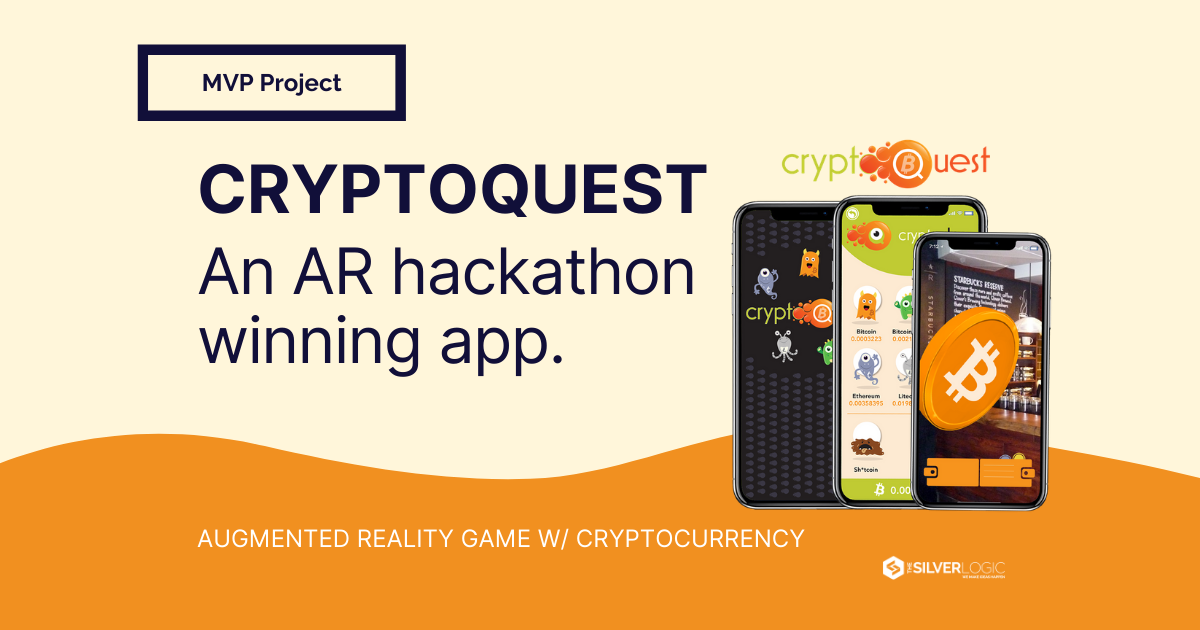 We've talked a lot on our blog about making ideas happen with augmented reality and the internet of things, but we haven't spent much time yet on the ideas we've actually turned into a reality here at The SilverLogic (TSL). This week, we'll be featuring two of our in-house augmented reality favorites, OmniPark and Cryptoquest.
At the 2018 Miami Bitcoin Hackathon, the SilverLogic team rapidly developed an augmented reality app called CryptoQuest. Like our award-winning OmniPark, CryptoQuest was built quickly and is a great showcase for the power of ARKit, Apple's software development kit (SDK) for creating augmented reality experiences on iOS. In the span of a single weekend, our team started from scratch and built a fully-functioning app that uses geolocation and augmented reality overlays to create a simple, engaging gaming experience that also could help organizations to promote various cryptocurrencies within the app.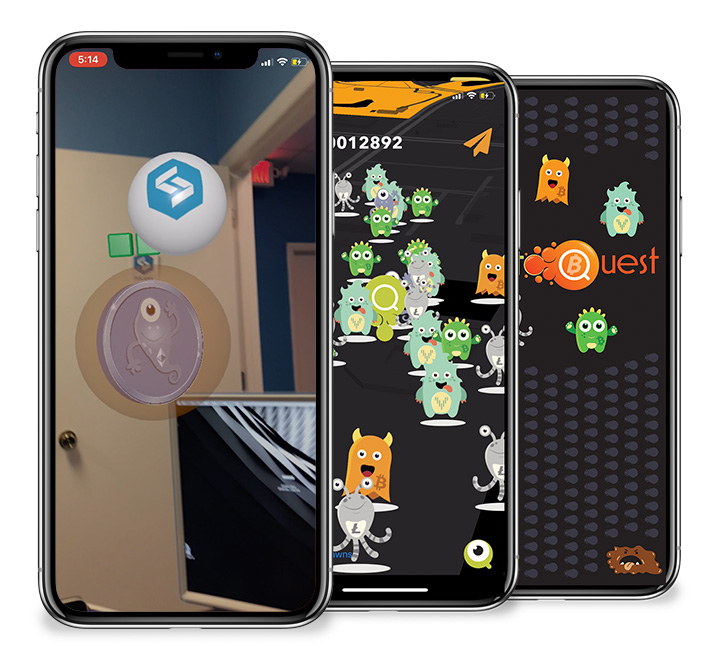 In its current demo state, CryptoQuest still demonstrates a lot of functionality that would be relatively easy to build out and enhance in a full app release. After a user launches the app and allows location tracking, the app uses the Google Geolocation API to figure out the location of the user. By pressing the 'Generate Spawn' key, the map is populated with (adorable) monsters, and when you click on the central location pin, the camera view is opened.
In the future, these would be the characters rendered in full 3D and placed into the user's environment via the camera view. Similarly to the wildly popular Cryptokitties, however, these would not be simple graphics - each 'monster' would actually be a real store of a cryptocurrency, drawn from a faucet accessed by the app. For now, though, a user sees simple coins representing one of several cryptocurrencies within the app. Using sensors in the phone to determine position, the user is able to fire spheres at the coins in order to add it to their wallet.
In the demo below, a user has earned a Vezt (VZT) token, and can look up information about the coin. In this case, Vezt is a coin that allows owners to share in royalty payments for songs from a wide variety of music artists. A user has the option to read the whitepaper (if available) or to buy more of the coin via a QR code. In theory, the current setup of the app could support any major crypto on the market, or be implemented as a DApp itself, which would make sense for integrations with the ERC20 tokens on the Ethereum blockchain.

CryptoQuest is still only a demo, but it highlights the huge potential for integrating augmented reality with blockchain applications. It's hard to believe how quickly our team was able to develop this fully functional early version of the app, and we look forward to building out the technology (or bringing something very similar into projects for our clients) in the future.
Read more about our previous winner prototype apps: