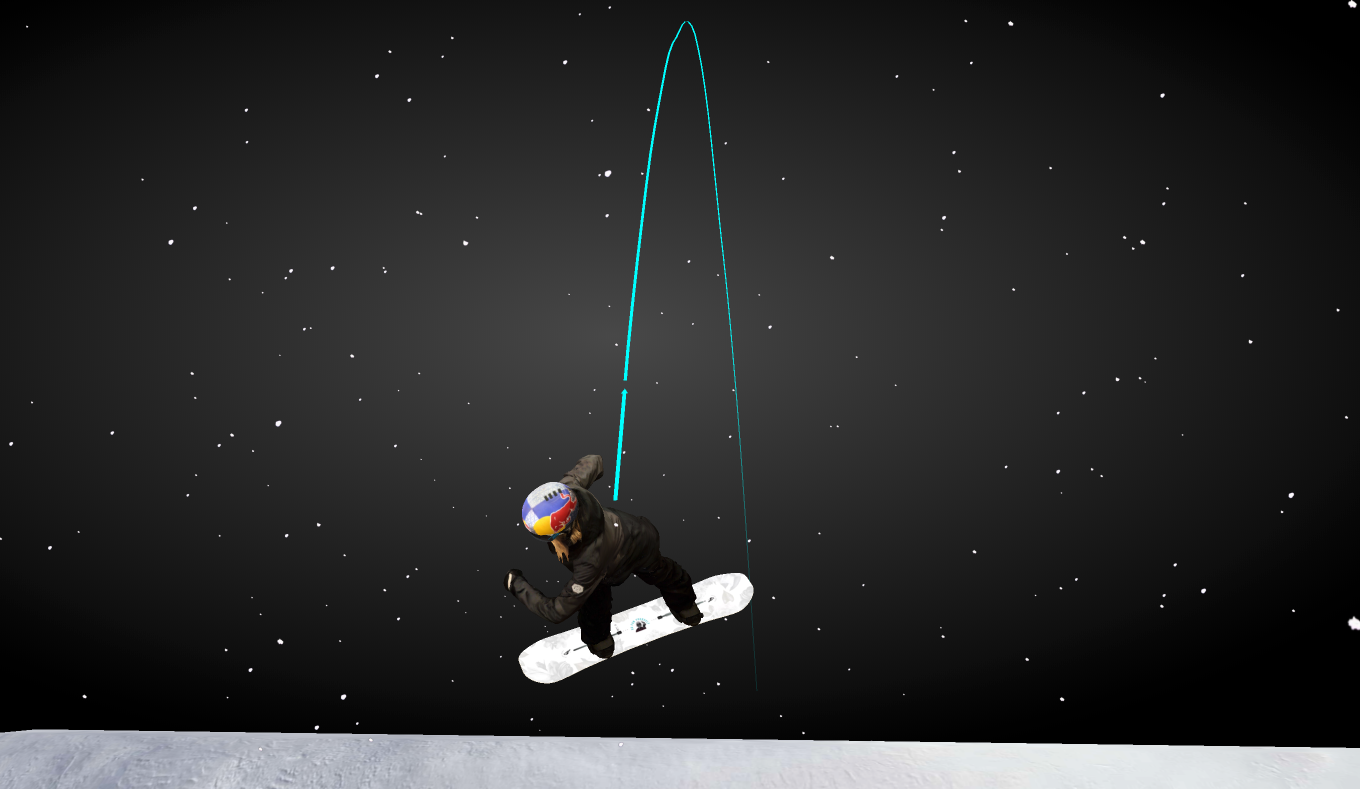 In the last six months, the releases of Apple's ARKit and Google's ARCore have led to a wave of new augmented reality apps for mobile, from the very silly to the extremely practical. One potentially game-changing use for Augmented Reality (AR) that's just beginning to emerge is in digital storytelling, where augmented reality-enhanced stories from top media outlets have been generating a huge amount of buzz in the new year. Here are three examples to try for yourself:
The New York Times (full experience on the iOS app, demo on Desktop)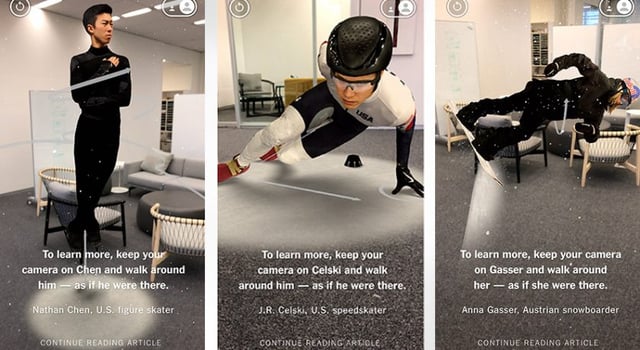 The New York Times has been a pioneer in new modes of digital journalism for years, being one of the first major organizations to utilize HTML5 and virtual reality on its mobile apps and desktop site. Its first big foray into augmented reality comes just ahead of the Winter Olympics in Pyeongchang and features figure skater Nathan Chen, speed skater J.R. Celski, hockey goalkeeper Alex Rigsby, and snowboarder Anna Gasser. The story allows users to view life-size AR projections of the athletes, and the text of story itself overlays directly onto the iPhone's camera view.
On first use, the level of detail in the AR is astonishing - a reader is invited to examine (among other things) the sharpness of Celski's skates, the details of Rigsby's glove, and the positioning of Gasser's body in the midst of a jump. In a statement, the Times highlights AR technology as a major new frontier in journalism, saying, "If photography freed journalists to visually capture important moments, and video allowed us to record sight, sound and motion, then our augmented reality feature goes a step further, making flat images three-dimensional. AR brings our report to you in a way that makes it more immediate than ever before."
The Times also created an AR honor box based off a real one in Queens as a way to demonstrate its editorial team's in-house AR capabilities. In a cheeky nod to its newsprint past, the paper writes, "The Times had more than 13,000 of these boxes in service as recently as the 1990s. Now, there are only about 30."
The Washington Post (full experience in the iOS app, demo and explanation on Desktop)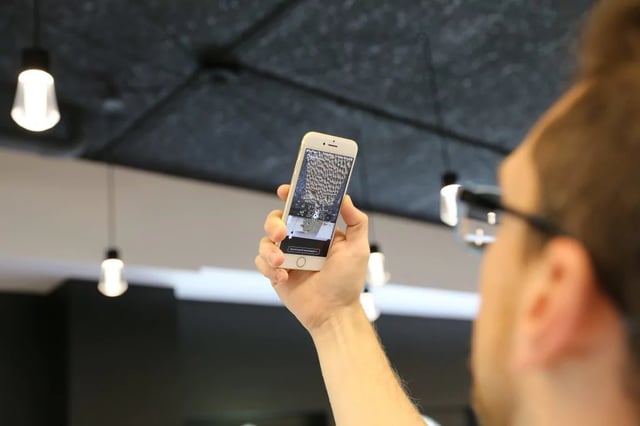 Last year, the Washington Post partnered with augmented reality startup Wikitude to create an interactive six part series intending to "highlight iconic billion-dollar buildings" that most readers will never experience in real life. The first featured the Elbphilharmonie concert hall in Hamburg, Germany, famous for its design layout and acoustic structure that allows each concertgoer to see and hear the exact same show. The Post series allowed users to interactively explore the buildings while also hearing audio narration from art and architecture critic Philip Kennicott. Joey Marburger, Director of Product on the project, said, "We think [AR will] be more widely adopted — you can really see it bubbling up — and we wanted to be at the forefront of that so by the time it takes off, we're really good storytellers there."
The BBC (press announcement; app forthcoming for iOS and Android)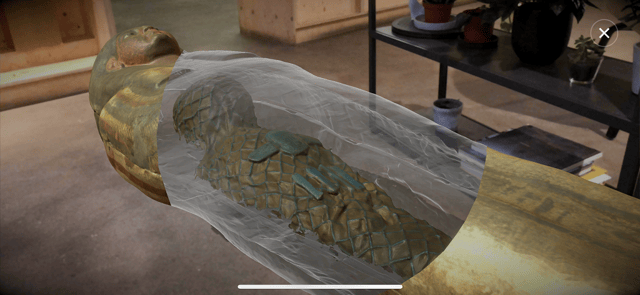 Not to be outdone by its stateside counterparts, the BBC announced last week it would soon release a companion App to its new Civilisations documentary series that allows users to project and explore many of the ancient artifacts features on the TV series. According to the BBC, the app will feature an "interactive features include allowing users to 'rub' through layers of history to revive a faded sculpture to what it would have looked like when it was first made." Among its many AR exhibits, the app will include an Egyptian mummy from the Torquay Museum, sculptor Auguste Rodin's The Kiss from the National Museum of Wales, and the Umbrian Madonna and Child from the National Museum of Scotland.