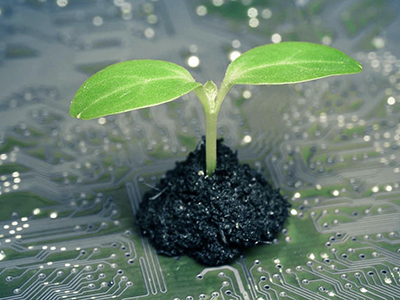 A survey by the Washington, D.C., firm of Arnold & Porter found that a typical lawyer uses 20,000 to 100,000 sheets of paper a year. At the high end, that translates into the release of 4.5 tons annually of carbon dioxide and other greenhouse gases. This is one of the many industries that need to start opting for a digital solution.
What are the connections that exist between technology and nature and how do they affect our environment? Many don't see the connection between these two aspects, but during this blog, you will understand the power RPA and App Development have to help companies create a positive and significant impact in nature.

There is a clear flow of natural materials like paper, plastic, and gas that are misused by companies, and some end up as unrecyclable mater, but there are alternatives. Software programs can be created with the capacity to replace the use of natural materials, for example, transform paper processes into digital processes, automate invoices, and even electronic contract signatures to reduce footprint, implement route optimization by using data to reduce gas consumption, and so on. Every change creates a great impact on our environment.
Here are some technologies that can be applied to your company if you're up for success and have a "green mind":
RPA (Robotic Process Automation) in paper processes
Robotic Process Automation can be applied basically in all industries, but the most exciting case studies come from construction, call centers, claims processing, and clinical trials. In every case, the reduction of paper is very dramatic.
The power of RPA goes beyond the extent of Data Extraction. RPA tools help companies retrieve data from both digital and physical documents. They can automate the process of searching through a database for the correct documents and routing them to the appropriate use within the company's network. Here are some use cases:
Simplifying appointment scheduling
Speeding up account settlements
Streamlining claims management
Implementing discharge instructions
Recording audit procedures
Improving the construction cycle
Managing healthcare workflows
Real examples:
1. In Healthcare, RPA bots streamline patient appointments according to diagnosis, location, doctor availability, and other criteria.
2. RPA software speeds up data processing for claims and avoids errors.
3. In Construction, RPA, bots accurately calculate the bill amount due to the subcontractor considering the costs for materials, transportation, time rendered, and specialized contractor fees and notifies Investors of their bill amount.
4. In Clinical trials, RPA bots ensure the accuracy of discharge guidelines and send reminders to doctors about test pick-ups, upcoming dosage applications, and medical tests.
5. RPA software records data and generates reports during audits.
6. The data recorded by RPA bots are used to generate analytics that can help deliver accurate timelines and well-tailored solutions.
7. RPA software streamlines workflows involved in managing and coordinating healthcare, cakes and utilization management, and remote monitoring.
AI-powered by Algorithms
Algorithms have the power to make companies work optimally by enabling the use of Artificial Intelligence (AI). As an article from the Harvard Business Journal explains, Artificial intelligence is reshaping business not at a fast pace many assume. AI is now guiding decisions on everything from crop harvests to bank loans, and once hypothetical prospects such as totally automated customer service are on the horizon.
Without leaving on a side our nature, AI will enable companies the reduction of paper dramatically. The technologies that enable AI, like vast processing power and data storage, are advancing rapidly and becoming increasingly affordable.
AI has the biggest impact when developed by diverse teams, together they have the power to create an algorithm that predicts maintenance needs accompanied by a digital overall maintenance workflow. This predictive algorithm is being applied to machinery in construction, ships, manufacturers, and more. By having this technology we will totally eliminate paper forms and physical documentation saving thousands of trees.
When AI is adopted at company levels, employees up and down the hierarchy will augment their own judgment and intuition with algorithms' recommendations to arrive at better answers than either humans or machines could reach on their own.