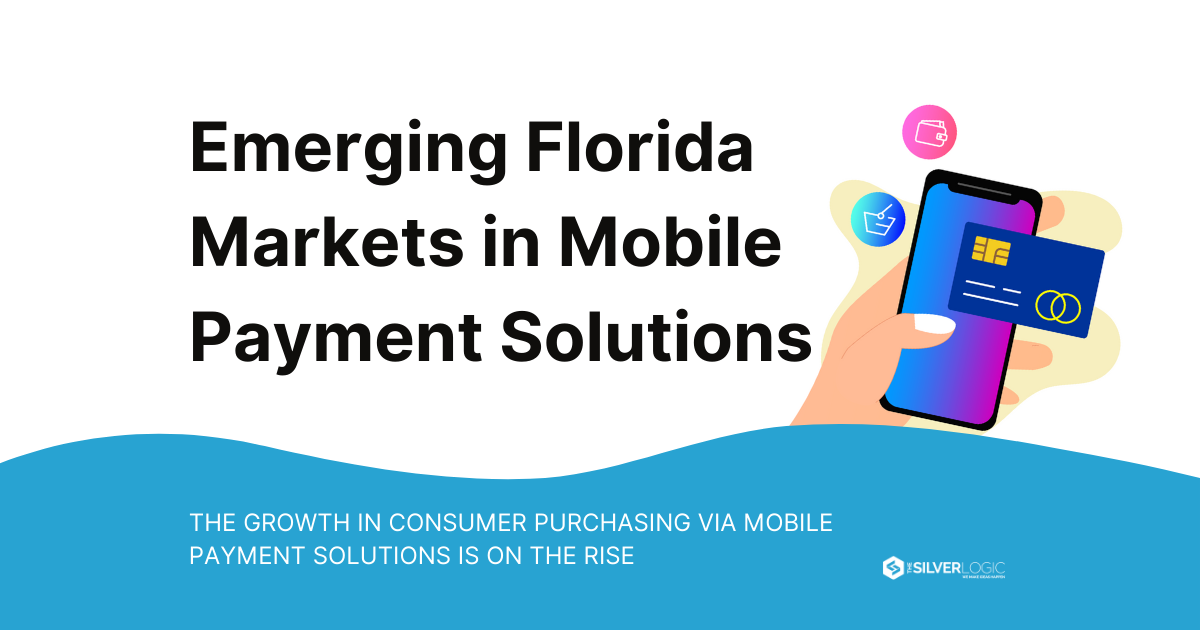 The growth in consumer purchasing via mobile payment solutions
is on the rise with key Florida markets set to profit. In a report published by Transparency Market Research, the 2017 global market for mobile payment technologies was valued at USD$2,943 Billion with a forecasted 37.8% CAGR (Compounded Annual Growth Rate) projected from 2018-2026.
Evolving consumer behavior and trust in mobile payments solutions make businesses like small vendors, mobile food trucks, pop-up stores, and a number of other ventures, able to transition into mobile payments from cumbersome cash or costly credit/debit payment solutions. Whether you're a tech firm looking to jump into developing a mobile payment solution for an industry, or a small business wanting to know your options to take payment, here are some mobile payment options and also market trends and companies to consider in the mobile payment solution market.
Types of Mobile payments
Proximity Payment: payments made on mobile or smart device at the point of sale using near field communication (NFC) technology for goods or services:

Merchant: SQUARE or PAYPAL dongle to accept credit cards
Consumer: paying via phone or smartwatch without a credit card

Remote Payment: payment via mobile for goods or services remotely, not at the point of sale

Merchant/Consumer: made via SMS, online, in-app, or voice/keypad with credit/debit card or PAYPAL

Peer-to-Peer Payment: Payment made from consumer to consumer via applications (such as VENMO, CASHAPP, or ZELLE)
International usage of digital wallets by consumers has steadily grown to an almost "Cashless society" as we have seen in China with Alipay and WeChat. These mobile payment solutions include additional value-added services that go beyond a mobile payment solution. Imagine you could message friends in a group chat, order a ride home, order food to arrive when you do, receive money for the food, and send money for drinks, all in one app fluidly! No going back and forth between Facebook Messenger, Uber, Venmo, Delivery Dudes, and What's App, trying to keep up, while draining your battery running multiple apps. China has also become "The world's fasting growing market and trendsetter when it comes to mobile payments" by leveraging optical scanning QR code technology, showing a potential vision of what is possible with integrated mobile payment solutions.
The United States is home to an emerging and highly lucrative market set to grow rapidly, following reduced regulations - the $250 Billion Medical Marijuana industry. Cannabis-aligned companies such as Safe Harbour private banking and CanPay debit payment solutions are an example of companies teaming up to develop a mobile payment solution for the cannabis industry.
Emerging Florida markets
Florida is also home to many established industries such as tourism, hospitality, aged-care and retirement services, agriculture, and many more. Established Florida industries, as well as emerging markets, present unique challenges and pain points that mobile payment solutions can solve with opportunities developers can cash in on.
Take, for example, Florida tech companies looking beyond local markets into neighboring countries for opportunities. Miami-based tech company YellowPepper has experienced massive growth and uptake of their mobile payment solution by targeting Latin America (such as Colombia, Ecuador, and Mexico). With Belgium's Elkiner app relocating to Miami, South Florida is a viable tech hot spot for companies that want to serve Latin America but are afraid of directly investing in operations in Latin America due to political unrest or economic reasons.
When it comes to mobile payment solutions and Florida, one thing is for sure - emerging markets in the state and neighboring countries offer a number of opportunities for developers and options for businesses to cash in.