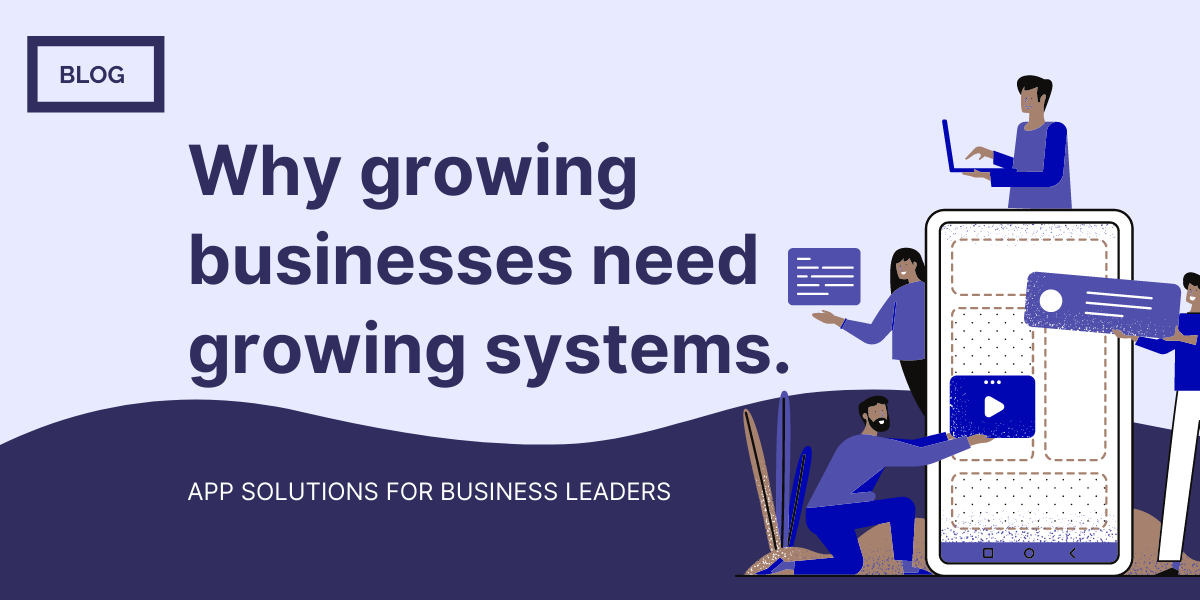 Why growing businesses need growing systems and applications.
Business leaders—e.g. CEOs, owners, and managers—need to be connected to their companies at all times, which can be difficult with a work-life on-the-go: attending meetings and often being needed in several places at once. And, as the scale of a business grows, intimate management only becomes harder to maintain with countless meetings, developments, and operations happening on a daily basis. You may find that you're not aware of the relevant happenings in your business, information that is essential to have as a leader and decision-maker. You may find that your company's channels of communication aren't keeping you up to date. You may find that you simply don't have the time to attend to multiple problems simultaneously. Disorganization, clunky workflow systems, and lackluster management tools are business killers, and we at The SilverLogic know that business technology—the right tools for the job—are essential to staying on top of a growing enterprise, to ensure it doesn't grow out of control and that you have everything you need to stay integrated with your company.
Custom app development is perfect for the business leader on the go, providing the ultimate level of convenience and control available. Whether in a meeting, traveling, attending to internal matters, or sending emails from your office, your mobile device can notify you of any urgent problems to attend to, allow you to communicate with your employees in an instant, and order certain actions to be taken with a few taps of your phone's screen. In fact, having proper tools and application platforms is indispensable in this day and age. Your involvement with the company doesn't have to decrease as it grows; the right technology can allow you to continue to intimately manage your business so you can lead its charge moving forward.
What you need to know to have a steady growth
Some companies are in special need of Enterprise Applications (EA), which are company-wide platforms that serve to organize workflow, provide channels of communication, keep everyone updated, and visualize company goals and objective progress. They can also be used to automate business processes, cutting away tedious and repetitive tasks in these areas to allow workers to focus on the work that matters. For a busy manager or leader, these EA options can provide immediate company benefits and return on investment, as the concrete boost to company data, such as productivity and efficiency, invariably leads to exponential growth. To read more on the benefits of business automation, click here.
For all busy professional lifestyles, The SilverLogic has you covered. We have developed software solutions for all manner of workers, such as with our client Inspected.com. This project is a suite of applications—namely a website, a web app, and a mobile app—that enable city inspectors to do their jobs remotely, through video conferencing. The system integrates different company roles, such as permit clerks who fill out inspection information and account owners who manage their employees and includes all the systems necessary for this operation to run smoothly and successfully. The benefit of custom software development is that our workers become part of your team, and the amount of control that you have over which features are included is unprecedented. It's not about picking the best solution off-the-shelf for your company anymore; it's about creating everything you need from software in the most efficient and cost-effective way possible, so your new business tools adjust to your workflow and not the other way around.
The possibilities are endless with new technologies emerging every so often. The SilverLogic has won several awards and hackathons, one, for example, with AR technology for Visa. Click the link to see a live demo of our Augmented Reality application for business solutions, creating a special UX (user experience) for Visa. This technology, for example, can aid manufacturing processes, consumer experience, and any other application we can discover. If this experience proved one thing, it's that business leaders can stop thinking about what options are available to them and start thinking about what ideal solutions would help them the most, because what was impossible a decade ago is now an accessible and economic investment in the long-term.
When everything relating to your company is available at the touch of your mobile device, CEOs, managers, and owners can start seeing the successes, the data, and the intricacies of their workflow to make intelligent and impactful decisions, even on the go.
Finding Your Company Profile and Roadblocks
Every workplace has its strengths and weaknesses, its assets and shortcomings. What are your company's unique strengths and weaknesses? If your business keeps hitting the same roadblocks, then change starts with adjusting your organizational structure and systems. And revamping these causes new needs and complications to arise. For example, if your company needs more accountability in its workflow and your employees should start keeping more up-to-date logs of their efforts, this might inconvenience them to the point where they lose work hours typing up reports. However, with tech solutions, this new system can be implemented without sacrificing any time or productivity at ground level. Instead, you invest in custom software so that, for example, employees can record their project progress through an intuitive app with pre-filled forms and only a few taps. If you're consistently struggling with a problem, you're most likely missing the right tools for the job.
Consider your company's profile and ask your team:
What are our strengths? How can we improve them, to allow them to carry us to our success?
What are our weaknesses? How do we cover them, to ensure they don't hold us back or drain our time, effort, and resources?
What frustrating parts of our workflow need change?
What options would help us thrive faster and easier?
As companies grow larger and larger, their systems have to develop as well, and business apps, tech solutions, and business automation options are every business leader's toolbelt to ensure that their company is running as smoothly and efficiently as possible. There's nothing more satisfying than a well-integrated team of people that have the means to reliably output results for your company, all thanks to the right kind of management and organization. The SilverLogic can help you solve whatever roadblocks are keeping you from your business potential. To learn more or schedule a meeting with us, so we can discuss what business options you have available, click here.