U

ser story comes out of user flows which lists in the first person the steps end users take toward attaining their goals.
Each bullet point or set of bullet points in a list can be translated to a user story and are also used to specify what is expected in order for a story to be considered done. Take a look at the flow below for how a casual instagram user ends up buying a shirt.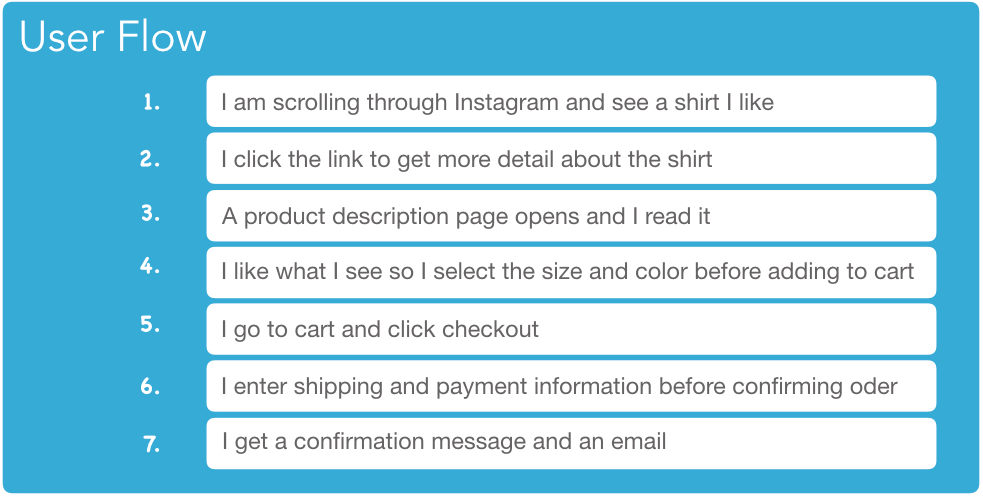 After we have written flows, we can extract user stories from them. Steps 1 and 2 are very similar so we will group them into one story that reads:

Here, we rolled two steps in the flow into one story.
Step 3 stands well as an independent story and would read:

User Stories Are Larger Than They Appear
Split them into smaller ones.
In most cases, a story will be too large; they need to be broken down into smaller and more independent user stories. For instance, look at step 6 in the flow; anywhere that you see an 'and', consider splitting. In this case the user stories mention shipping and payment information; the two should be split and would look something like this:

+

Now here is how user stories save time: All of them point out the value you want but you do not have to commit to them. They can be reprioritized, added between user stories, and be archived if they remain low priority. They are always there, user stories are a promise to conversation and incredibly easy to manage.
Higher priority user stories can be specked out first and handed off to a developer for work. While the developers are working on the user stories you handed them, you can work on the next high priority user stories.
Even better, review of finished work can be used to adjust the scope of the feature user stories through progressive refinement. For instance, the credit card info may end up being inconvenient for your customers given how your app and business work, you may decide that you want to use PayPal instead of taking Credit Cards directly.
---